VERNAL POOLS
[scroll down to learn about the biology of a vernal pool]
Almost one year ago, the local vernal pool habitat was disturbed by unauthorized clearing AND a car drove through the chainlink fence. The city of San Diego fully set us up to expect their help, but ultimately dropped us due to the fact that they could not figure out "which department to bill" at Fieldstone headquarters. The city abandoned us, so following the lead of our neighbor Tim who refused to wait any longer, we all donated to restructure the chainlink fence; $200 from Wild By Nature, Inc. Then we started on the vernal pool habitat. Wild By Nature paid for $40 worth of drop clothes plus $240 for debris removal, making our total donation of $480 to cover what the city of San Diego was too clumsy to complete. This is what we did in two 4-hour weekends:
Our first and very successful VOLUNTEER habitat clean up Sunday, May 14, 4:00-6:00 and Monday, May 15, 10:00-12:00. 10900 block of Sunny Meadow, San Diego 92126. Thank you 7 neighbors!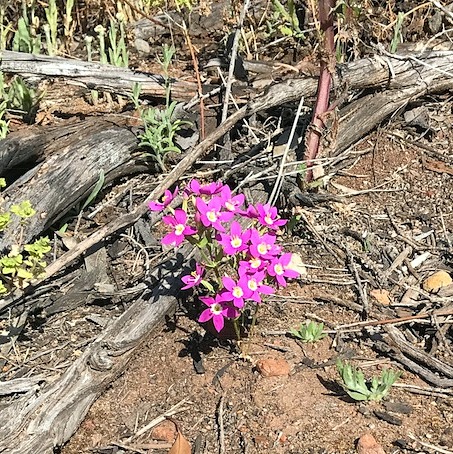 [visit our Gallery for more photos of vernal pool flora and fauna]
FINAL VOLUNTEER habitat clean up Saturday, October 21, 4:00-6:00, and Sunday, October 22, 10:00-12:00. Thank you 13 neighbors!
The biology of a vernal pool:
Vernal Pools
Vernal pools are naturally occurring, seasonal wetlands. They are essential for habitat preservation because none of the plant or animal species can flourish when isolated. This wetland habitat is a prime example why the environmental movement evolved from saving species to saving habitat. As with all things in nature, the plant and animal species that are part of a vernal pool habitat enjoy a wide range of size, color, and shape.Most of the biological terms on this page are linked to Dictionary.com, where you can scroll down to find the scientific definition.
A vernal pool habitat exists in a mutually beneficial (symbiotic) relationship with the nearby uplands (sage brush and mesa tops) which is home to myriad pollinators and propagators. This includes all the bugs that attract local and migrating birds, and all the rabbits, squirrels, skunks, possum, bobcats, and coyotes who should all live in healthy balance. The vernal pool habitat includes an important chain of prey and predators. In order for this to work, the entire ecosystem must be healthy. In simpler words, we want to save the entire habitat!
Vernal pools exist as depressions in the boulder-filled, hard red clay. This hardpan, or clay liner, prevents rainwater from percolating through the soil. Vernal pools are temperature specific and will only respond to a cold winter rain, never to an unseasonal warm rain. When the pools fill with cold winter rains, water ponds on the surface creating a temporary wetland that lasts only until it turns again to dust in the summer. Vernal means spring, and springtime is witness to a spectacular change of life forces. Eggs hatch and seeds germinate, leaving the pool vibrant with life and color. Fragile but hearty, the fairy shrimp eggs and some of the plant seeds are known to lie dormant for at least 15 years. As the dry summer approaches, the water evaporates or transpires, leaving the pool to dry until the next year. Frogs encase themselves in a natural sac that protects them from the dry clay of summer. The timpani of winter rain on the hard clay awakens them, alerting them that it is time to emerge and renew the circle of life. Click here to listen to the vernal pool frogs at night. [Spoiler alert: it's black at night!]
Vernal pools turn from dust to vibrant pond life to a carpet of wildflowers, then back again to dust as the cycle flows from season to season throughout the year. The indigenous peoples who lived here made full use of the bounty of life existing in these natural habitats. There are 14 federally recognized endangered species and 54 recognized sensitive species, along with common flora and fauna that share the vernal pool ecosystem, all of which depend on a healthy, intact habitat.
Many of the species are endemic, existing exclusively in this system and are, therefore, protected under section 404 of the Clean Water Act. San Diego CA vernal pools are part of the Riverside plate which is more than 450,000 years old. Less than three percent of San Diego's original pools remain. It is illegal to disrupt a vernal pool habitat. The Mira Mesa High School Ecology Club is one of many proactive groups studying vernal pools, but a lot depends on the city's will to inject outdoor science into public education.
Visit our Vernal Pool Gallery to see photos of the vernal pool flora and fauna. Each is labeled with the Latin name, the Kumeyaay Indian name when known, and the common name. You can access the gallery by the link on this page or go directly to the Gallery in the menu above. Please note that the photos shown in the gallery are being upgraded, so visit us again for crisper images. Another excellent source for vernal pools is California Vernal Pools: Kids & Education.
Photos by Kathryn Wild and NAS Miramar Natural Resources Department. Species are enclosed in quotation marks when "Kumeyaay Native American names" are known. Botanic names are in italics. Common names are in regular type.